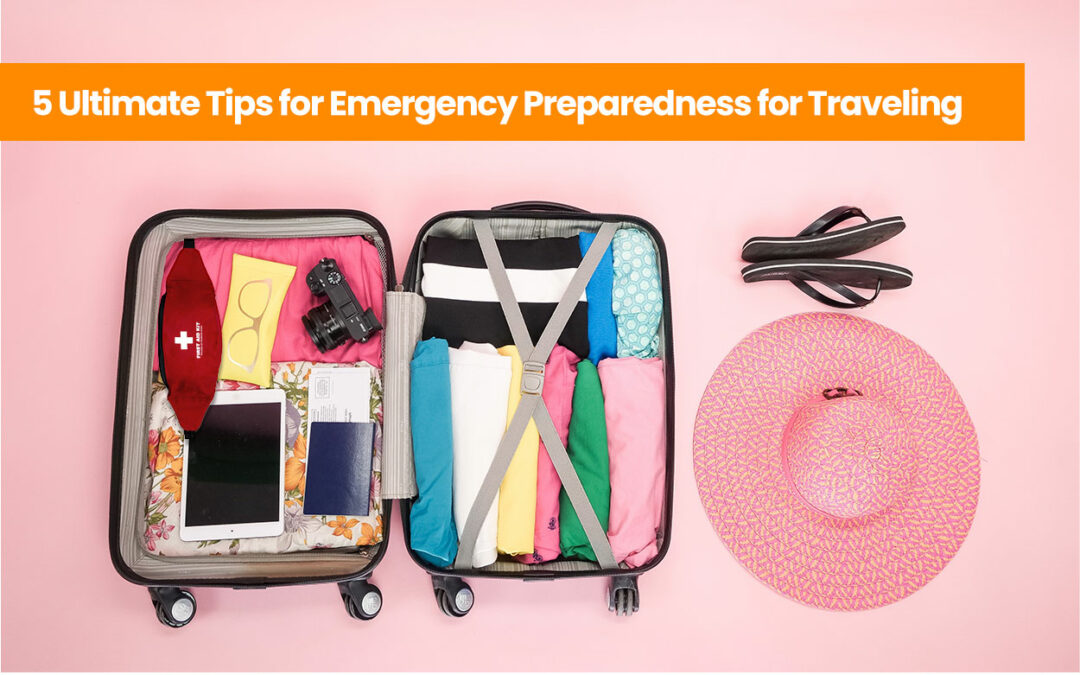 5 Ultimate Tips for Emergency Preparedness for Traveling
Traveling is an adventure that can be unpredictable, and sometimes things don't go as planned. To ensure that you have a stress-free trip, it's important to be prepared for anything that might come your way. Here are 5 Ultimate Tips for emergency preparedness for traveling and how to be prepared for anything while traveling.
But first a case study!
Imagine you're on a plane, excitedly anticipating your vacation destination. The captain announces that you'll be landing in just a few minutes. But suddenly, the plane's engines roar as the pilot abruptly pulls up, and you hear the sound of the landing gear retracting.
You're confused and a little scared as you feel the plane ascending instead of descending towards the runway. Then, the captain explains that there has been an earthquake in the area, and the airport control tower has suspended all landings until further notice.
Finally after flying around the airport, the pilot receives the clearance to land and that all is well. Apparently, earthquakes are a regular occurrence in that region.
Great! You've picked an earthquake prone destination for your vacation.
How can you prepare? 
1. Create an Emergency Preparedness Plan

Having a well-thought-out emergency preparedness plan is crucial for ensuring your safety during unforeseen circumstances. Consider different scenarios and how you would react to them. Make a list of essential emergency contacts, both at home and at your destination, and share your travel plans with friends or family members

TIP: Using a checklist when creating your emergency preparedness plan is one of the best and organized ways to make sure you cover all the important bases, so
you don't miss any key details.
2. Research Your Destination

Before embarking on your trip, it's important to research your destination thoroughly. This will help you prepare for any possible challenges you might face. Some things you can research include the weather, local customs, culture, and language. Knowing what to expect will help you pack the right clothing, plan your activities, and avoid any potential mishaps. Prior to your trip, get travel advice and advisories by destination from the Government of Canada here.

TIP: Sign up for government alerts: Many countries have official alert systems that provide warnings for emergencies, natural disasters, and severe weather. Research your destination's system and register for notifications via text message or email and add it to your plan.
3. Pack a First Aid Kit

A basic first aid kit should include items such as band-aids, adhesive tape, gauze pads, and antiseptic. These items will help you treat cuts, scrapes, and other minor wounds. Additionally, it's important to include pain relievers such as ibuprofen or acetaminophen, which can help alleviate headaches, muscle aches, and other common ailments. Additionally, it's important to pack any prescription medications in your carry-on bag, along with a copy of your prescription, in case your luggage gets lost.
TIP: If an earthquake should occur you will have your own first aid kit to treat yourself, family or anyone needing help of any injuries, while others may not have access to one during or after the disaster. 
4. The Emergency Preparedness Kit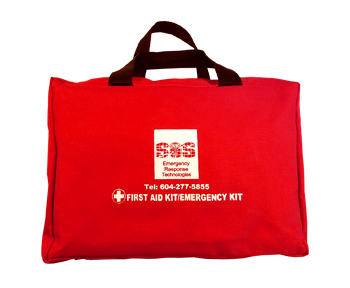 When it comes to emergency preparedness, having an emergency kit with essential items can make a significant difference in an unexpected situation. We know that when traveling you are limited to what you can pack in your luggage. But by planning ahead you can create a basic and compact version of what you might have available to you if you were at home.
Some important items to include in an emergency kit are non-perishable food items such as granola bars, trail mix, and powdered drink mixes, emergency water pouches as well as water treatment tablets or a small portable water filtration system. You can also purchase food items at your destination to keep in your room or with you in a bag.
TIP: Include an emergency lightstick that is lightweight for packing and doesn't require batteries, a multi-purpose tool, and a whistle for a signaling device to help you navigate and communicate in an emergency.
5. Research Local Emergency Services

Preparing for a trip involves much more than just packing your bags and booking accommodations. It's essential to take precautions and plan ahead for unexpected situations, especially emergencies. Before embarking on your journey, it's wise to research the local emergency services available in the area where you'll be staying. This includes identifying the nearest hospital, police station, and embassy. In case of an emergency, knowing where to go and who to contact can make all the difference in ensuring your safety and wellbeing
TIP: Make copies of your important travel documents such as your passport, visa, and itinerary. Keep a physical copy with you and also scan and email yourself a digital copy that you can access from anywhere with an internet connection. If traveling internationally, know where the local embassy for your home country is located, they can provide additional information in the event of an emergency.
Summary: Keep and Open Mind

It's important to keep an open mind while traveling. Things might not always go as planned, but having a positive attitude and having an emergency preparedness plan can help you make the most of any situation.

BONUS TIP: Visit tourist information centers: Upon arrival, visit a local tourist information center to gather valuable resources and ask staff members about any current alerts or warnings. They can also provide recommendations on staying safe and informed during your stay.