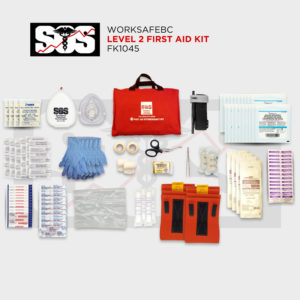 Province regulations specify minimum requirements that employers must meet and the contents of the first aid kit at work should be guided by the first aid needs assessment completed by your OHS team. Your OHS department knows the workplace better than anybody else and site-specific assessments should be regularly conducted to identify potential hazards that employees are exposed to at the place of work. This hazard assessment will identify the individual needs of the workers in order to choose a first aid kit that not only meets provincial requirements but one that can properly handle the most likely problems to occur. Looking for a more robust or custom first aid kit? Contact us today and one of our knowledgeable team members will work with you from beginning to end to make sure you have everything you need. Keep your first aid well-stocked with extra supplies at all times: You never know when a disaster or crisis will hit.
Items I like to make sure to add to my first aid kit:
Large gauze pads are easier to cut down to size than trying to make smaller pads fit over a large wound. If you can only choose one size pad, go for the larger size such as a 4″ x 4."
Non-stick dressings would be a good idea, otherwise the bandage will have a tendency to stick to the wound and this makes dressing changes difficult.
Waterproof dressings can come in handy, as they can be used over clean skin and are flexible enough for camping and hiking activities
Emergency blanket – besides being used as a blanket, it can be used for shelter and the fluorescent orange/shiny silver can help attract attention.
Always go for branded items and make sure you check the expiration date of all available first-aid items with you. The most useful items in a first aid kit are gauze, gauze pads, ice packs, steri-strips, butterfly bandages, ace bandages, slings, splints, and glucose for diabetic situations.