From time to time we like to feature guest blog writers. SOS Emergency Response Technologies recently had the opportunity to have one of City Of Vancouver's, Emergency Planners, Jackie Kloosterboer write a blog for us.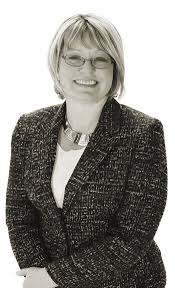 Survive It! Be Prepared – Not Scared By Jackie Kloosterboer
Imagine – sitting at your workplace reading this newsletter right now – when all of a sudden you feel the floor beneath your feet start to shake. At first it is moving ever so slightly and with each passing second it grows stronger and stronger.  You watch in fear as the lights swing back and forth and items from your desk shoot across the room crashing to the floor. In the distance you hear breaking glass and horrifying screams as people dodge flying debris.  You hear a huge explosive bang from the transformer outside – the lights flicker and the room goes dark.
Your thoughts immediately race to your family! Where are they? How are they?  You try to remember the conversation you had this morning before leaving for work – your partner is helping a neighbour move – your daughter is meeting friends at the mall – or was that tomorrow?  Your neighbour was taking your son to his soccer game across town?
You grab for your computer bag and fumble for your cell phone. You try to call your partner and your heart sinks – the call won't go through – the line is dead.  You frantically type a text praying it will go through………
Living and working in the Lower Mainland – we know we live in an area that can be impacted by earthquakes and a wide-variety of other disasters – yet it is estimated that less than 30% of us have taken the steps to ensure we are prepared. Experts predict it's only a matter of time before the "Big One" strikes BC.
You do not need to live in fear of earthquakes. By planning ahead you and your loved ones – even your pets – can have an emergency plan to greatly increase your earthquake survival chances by knowing the steps and supplies necessary to get through any disaster. Planning ahead reduces your stress and worry. And it significantly increases your quality of life after an earthquake.  Remember – having no plan is planning to fail!
Here are 3 simple steps you and your family can use if you are not together when disaster strikes in order to Survive "It"
1.       Designate Your Family's Out of Area Contact
An Out of Area Contact will provide you piece of mind knowing you have a way to connect with your family if local phone lines and cell phones are down following an earthquake.  Simply ask a friend or family member who lives out of the province to be your Out of Area Contact.  When phone lines are down family member will call your Out of Area contact and provide their condition and whereabouts.  When making this call they will also receive updates on other family members who have called in.  We all tend to put our important numbers in our cell phones and if the power is out and you can't charge your phone you won't be able to access this number.  Make sure you keep this number in your wallet.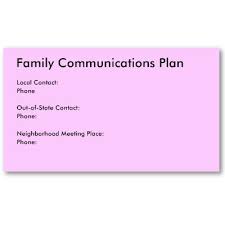 2.       Prepare Your Work Grab & Go Kit
For some of us returning home from work after an earthquake is going to be next to impossible. If you take transit or have to cross a bridge you may find roads and bridges have been closed until inspections can be conducted.  If roads and bridges are closed Transit likely will not be an option.
Your only option to get home may be to walk.  Take a look at the shoes you are wearing right now – how far will you be able to walk in them?  If you are like most office workers the answer is probably not very far.  Do you have a jacket in case the weather changes? Do you have food and water to get you through the next several hours? What about medications? Always check with your family doctor or pharmacist before storing medications. Keep these items and other supplies you will need in your Grab & Go Kit at work.  These supplies can make a world of difference during a disaster, whether you stay at work or are able to walk home after the earthquake.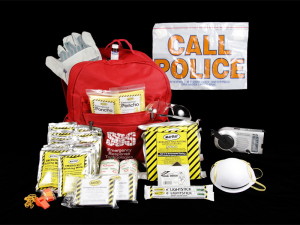 3.       Muster Station – Meeting Place
Do you have friends or family who work in the same area as you? Would it not be a great idea to arrange a meeting location convenient to you both?  This way if you were unable to communicate you would know to go to that pre-identified location to meet with them.  Once you are together you could determine if you were best to walk home or should you stay where you are.
Following the above three steps is a great start to any emergency preparedness plan but don't stop here – make sure you have plans and supplies to last you  at least 3 days to a week without any outside help. By being prepared you will take comfort in knowing that if you are not home with your family they do have what they need to survive a disaster. The time to do this is now – before the disaster strikes.  Once the earthquake hits it will be too late.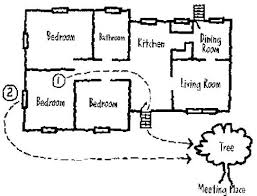 __________________________________________
Jackie  has been leading the way in emergency preparedness for over 15 years teaching thousands of people how to be prepared.  In her role with the City of Vancouver Jackie responds to emergencies and disasters helping those who have been impacted.   Kloosterboer is also the author of My Earthquake Preparedness Guide – Simple Steps to get You, Your Family and Pets Prepared found at Chapters, Save-On Foods, Barnes & Noble, and Amazon.com. As well, you can have Kloosterboer do a home visit to help identify and prepare a plan so that you can Survive It!   www.604Prepare.ca